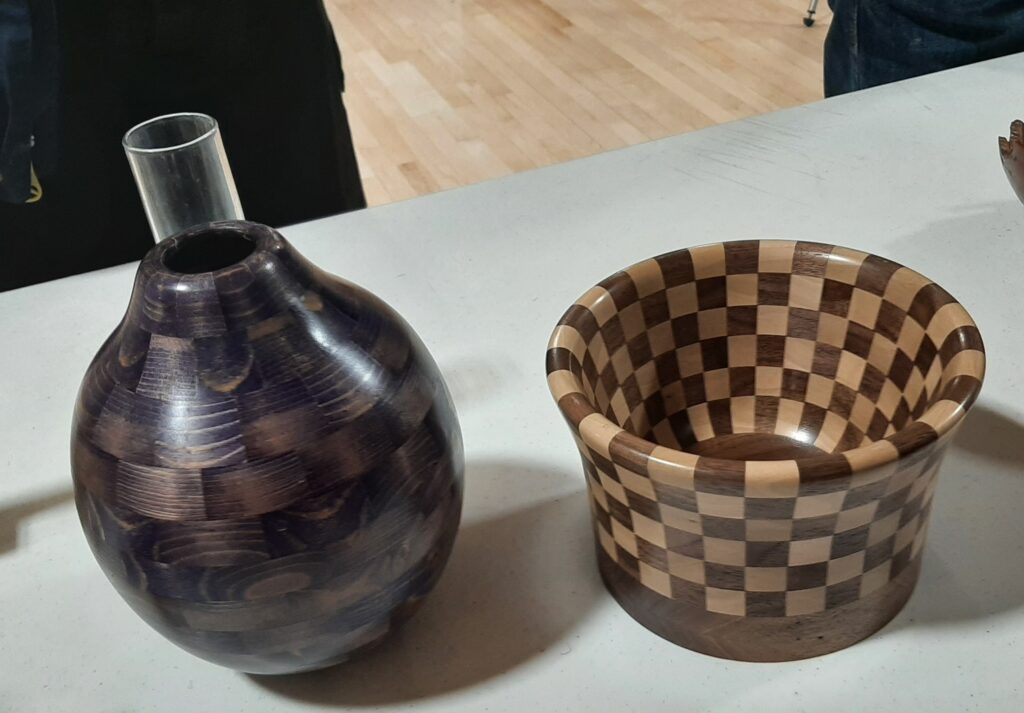 Welcome to Wabash Valley Woodworkers
When do you meet? We meet monthly from September through May on the third Saturday of the month from 9:00 a.m. to noon at Lafayette Christian School (some road trips).
What else do you do? Beyond the meetings we annually attend the Feast of the Hunters Moon with our "Big Wheel" lathe to put on a show for families. We attend other local shows (art & community). Periodically our members will host how-to classes on certain topics (shaker oval boxes, Kumiko, etc…)
What can I learn? Meeting subjects have included scroll saw techniques, chip carving, finishing, sanding procedures, sharpening, project planning, lathe work, cabinet construction, bowl carving, band saw boxes, jig and fixture construction, tours to shops, and many other subjects.
Who teaches? Most of the meetings are conducted by members sharing their ideas and projects. For one Meeting each year, a professional presenter is brought in. This event is usually an additional fee to attend above the normal dues.
Any other benefits? Door Prizes, 10% off at Rockler in Indianapolis.
What pros have presented before? Marc Adams, Tim Puro, Mike Pekovich, Randall O'Donnell, David Wright, Ernie Conover, Frank Klausz, Dale Barnard, Nick Engler, Glen Huey, Doug Stowe, Ben Hobbs, Don Weber, Jeff Miller, John Jordan, Peter Gedry, Adrian Ferrazzutti, Alf Sharp, Kelly Parker, to name a few.
How much are the club dues? $40.00 Annually. The first visit is on us.
Education
Enjoy learning through our monthly presentations and annual pro-presenter.
Show & Tell
Show off your latest project or interesting find with a group of people who'll appreciate it.
Auctions
Walk away with new and interesting tools and projects from our monthly auctions.
Door Prizes
Every month several attendees are chosen at random to receive door prizes.